Microneedling/Nanoneedling
MICRO-NEEDLING
AKA Collagen Induction Therapy, is a minimally invasive skin-rejuvenation procedure involving the use of the AcuMicro Needle Pen. The mechanical action of the pen allows the needles to puncture the skin and create controlled injuries at a specific depth. Each puncture creates a channel that triggers the body's natural healing process to fill these micro wounds by producing new collagen and elastin in the papillary dermis. In addition, new capillaries are formed for improved blood supply.
We understand that you want a safe and affective treatment by licensed professionals. With our TCM (Traditional Chinese Medicine) approach, you'll feel soothed and relaxed before, during, and after each treatment with our carefully crafted facial serums.
MICRO-NEEDLING IS USED TO TREAT & IMPROVE CONDITIONS LIKE:
Acne Scars
Fine Lines
Wrinkles
Stretch Marks
Large Pores
Dark Spots
Sun Damage/Hyperpigmentation
Uneven Skin Texture
Minor Skin Laxity
Dull Skin Tone/Low Glow
MICRO-NEEDLING ALLOWS 3000% MORE PRODUCT ABSORPTION
Maximum results are shown when patients do between 4-6 TREATMENTS
Results are shown to last between 4-6 years in research, without maintenance
Treatment Length: 30-45 minutes
Recent research shows a shallow treatment only 0.5 MM DEEP shows the maximum results. Treatments are GENTLE and PAINLESS.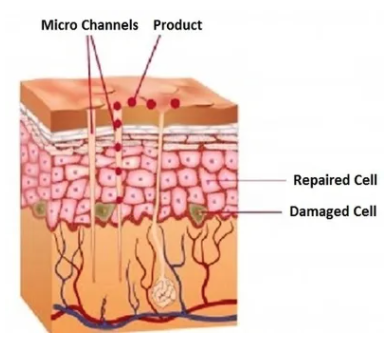 WHAT'S SPECIAL ABOUT ACUMICRO NEEDLING?
The AcuMicro Plus pen used at our office oscillates at 18,000 RPM, which almost doubles the RPM of other Microneedling devices. High RPMs allow for more effective treatments overall and for larger areas, such as the scalp or body, to be treated with ease.
Note: Platelet rich plasma (PRP) techniques, botox, and injection therapy are NOT used at my office.
We ONLY use natural Apple Stem Cells, Holistic Herbal Serums and Hyaluronic Acid on the skin.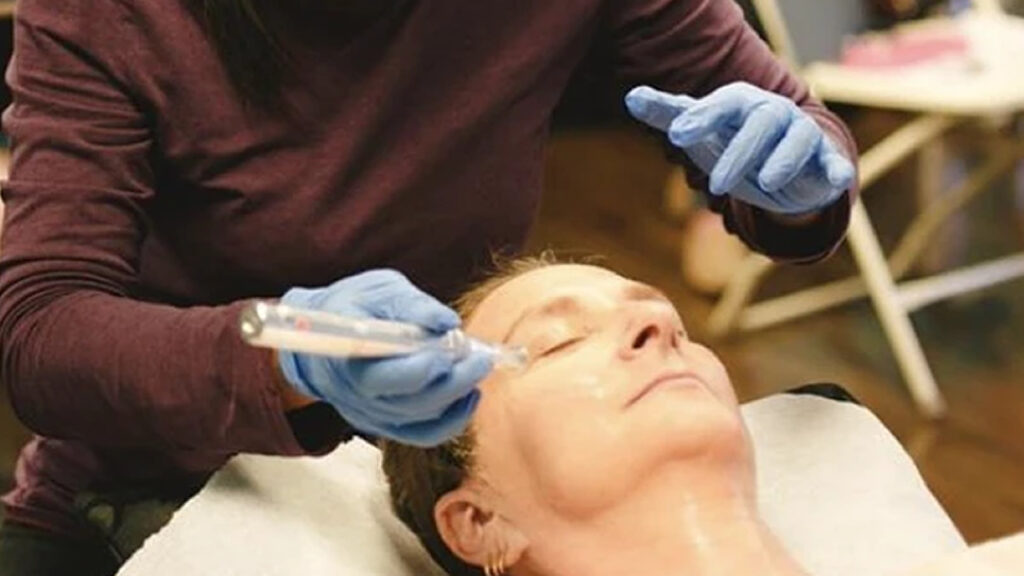 Nanoneedling is a more gentle version of microneedling. It uses the same type of oscillating motion to treat the skin but the cartridge encompasses 81 silicone cones. These microscopic hair-like cones separate the cells within the epidermis to allow active products to be pushed into the skin. Nano-Needling only affects the epidermis, treating within the upper .15 mm of the skin.
Benefits of NanoNeedling:
​
NanoNeedling is a serum infusion treatment , which increases product absorption by 97%.
It can improve pigmentation reduction, increased cell turnover, skin rejuvenation and an immediate glow with no downtime, Particularly beneficial for under eye bags, fine lines, wrinkles, sagging skin. This treatment is also recommended for those with thinner skin or might feel sensitive to micro needling.
How to Prepare for Your Treatment?
Complete the forms that will be sent to you prior to your appointment. 
Come without make up on the face
Remove your contact lenses. 
Please be aware that the treated areas will be red after the treatment. It is not recommended to go directly under the sun. 
What's the protocol of Microneedling?
(Note: At initial visit, a brief intake over the patients' medical history.)
Step 1: Clean and prep the skin with a thin layer of hyaluronic acid/ apple stem cells applied
Step3: Proceed with Micro and/or Nano-needling treatment: The pen will be gently pressed against the skin while gliding in a crosshatch motion until the entire treatment area has been covered (the face, into the hairline, and the neck).
Step 4: You will rest on the table with a customized holistic herbal  mask.
Step 5: Remove the mask, put on sunscreen accordingly.
What's the Frequency of Micro-needling and Nano-needling Treatment?
MicroNeedling:  every 4-5 weeks for a course of 4-6 visits. Having Nano needling or facial acupuncture between visits will enhance the effects of the treatment. 
For Hair Growth : 2-4x a month.
Nano-needling: 1-2x a week for a course of 8-10 visits. It is great on its own or between micro-needling and/or facial acupuncture for maintenance.
On which areas of the body can Micro and Nano-needling be done?
They both can be done on the neck, decolletage, body scars, hands, scalp.
 What Can I Expect from Micro-needling Treatment?
Micro-needling is not intended to give the same results as chemical fillers and injections. The results from Microneedling appears more subtle and natural. However, commonly the results are seen and felt after the first treatment. Skin should glow and feel tighter.
After the treatment most patients notice a bright redness to the skin. The healing time depends on individual sensitivity to the treatment, but typically the redness will go away in 8-12 hours. It is recommended to have at least 4-6 treatments to achieve optimal results. The procedure usually takes about 15-30 min depending on the size of the area being treated.
Visible changes to the skin develop over the course of several days and weeks. Once a course of treatment has been completed, results can last up to 3-5 years without maintenance. Treatment outcomes can be maintained and enhanced by quarterly or monthly maintenance visits. 
Please note that individual results may vary. There is NO GUARANTEE provided. 
Contraindications to Micro-Needling:
Active acne
Pregnancy—can use nano-needling 
Moderate to severe chronic skin disease such as eczema and psoriasis 
Blood disorders, or patients on anticoagulant therapy 
Extreme keloidal tendency 
Patients on chemo radiation therapy
** Please Note:  Insurance policies that cover Acupuncture do not cover Micro-Needling